Orthopedic Bed with Maximum Support Catering To Your Unique Comfort Needs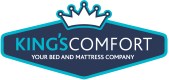 Modern living trends require maximum support which is the standard in our memory foam range. High density foam layered with memory foam and a quilted bamboo topper creates a firm foundation and rejuvenating feel.
DENSITY - Firm
MAX WEIGHT - 90kg
COMFORT LAYER - Single
DENSITY - Firm
MAX WEIGHT - 120kg
COMFORT LAYER - Double
DENSITY - Medium/Firm
MAX WEIGHT - 150kg
COMFORT LAYER - Double
Frequently
Asked Questions
How does delivery work?
All beds will be delivered within 5 working days from date of order. Beds are dispatched from our stockist nearest to you who will contact you to communicate the exact date of delivery.
What warranty is offered with the beds?
Our bed ranges start from 7-30 year warranty plus an automatic one year comfort guarantee on all beds. We also offer a unique comfort exchange guarantee which allows the client to test our bed for 100 nights to decide if the product is right for them. Details of our 100 night comfort guarantee can be found here.
Why should I buy from King's Comfort?
We are a young company that understands timeless values and believes in training our staff to find the bed that's just right for you. We understand the need for a good night's rest with today's demanding lifestyle and have made choosing the right bed as easy as 1. 2. 3.
Call Us
Factory – 086 12 13 14 1
Retail – 087 087 16 11